It feels nice when worlds collide and that was the case when I learned that Marilyn Jaeger had hired WebSight Design (WSD) to develop a new website for Marilyn Jaeger Skincare.
I've known Marilyn for over half of her 25 years in business as one San Francisco's most sought after, preeminent and high-end estheticians. In a line of work that is often narrowly focused on aesthetics, Marilyn's work is magic. She is committed to providing a sacred space and uses medical grade products and cutting-edge treatments as vehicles for transformation. Marilyn's treatments are practiced with intention for harnessing clarity, harmony and healing.
In the bouts of the Covid era, Marilyn moved her original spa location from the Presidio to Pacific Heights and expanded to Novato. Marilyn is not only a talented body worker and dedicated business owner, she is a remarkably spirited, caring human and friend.
When Marilyn reached out to WSD, her vision was to redesign her website to align with a comprehensive rebranding. Marilyn wanted to trade her burgundy and grey color palette for a timeless black, white and gold. Style-wise, the tone was to go from elements of Art Noveau to a very modern and sophisticated — think, Coco Channel. WSD enlisted the help of malcolmdesigns.com to design an elegant new logo. The website utilizes serene photos that evoke the immersive experience that is Marilyn's skincare sanctuary.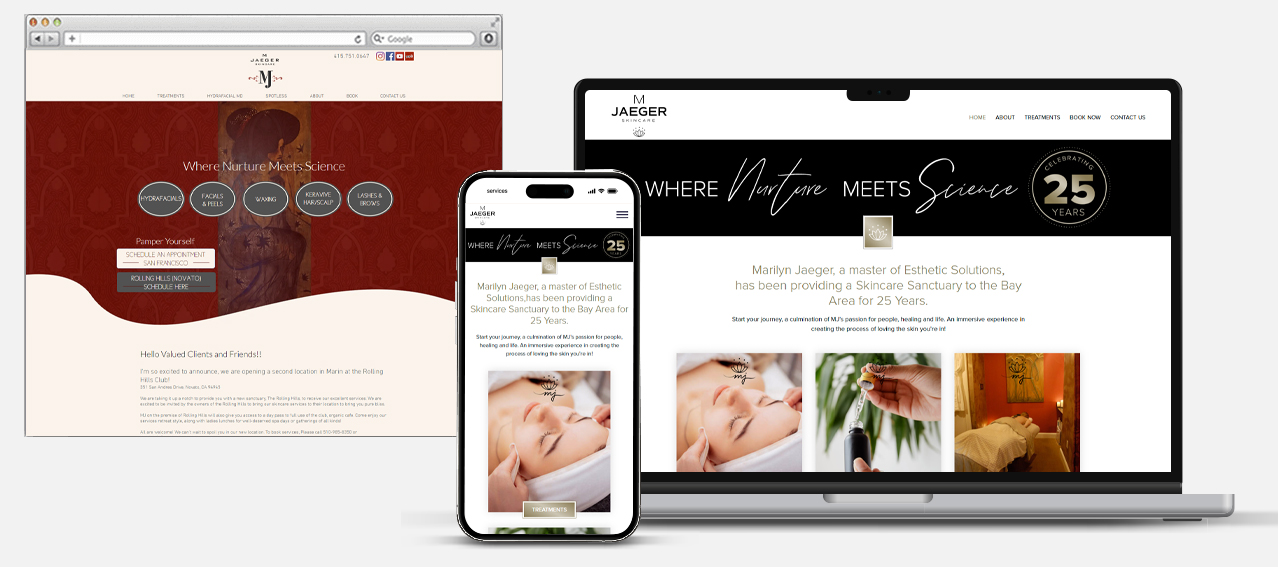 The new Laravel website is open-source PHP ideal for meeting Marilyn's individual business needs. It includes a booking engine and links to Marilyn's Shopify site and custom line of curated skincare products.