Case Studies
Our Clients
Our clients range from artists and craftspeople, to entertainment companies, to small businesses, and everything in between. Click the images to view the clients' sites, or check out our full client list.
Pacific Union
pacunion.com
Pacific Union is California's premier residential real estate firm supporting over 1,400 agents and tens of thousands of clients. WSD's primary roles on this multi vendor account include: technology strategy, technical project management, organic SEO, vendor management and hosting.
View Site
Luxury Marin Homes
luxurymarinhomes.com
Luxury Marin Homes is a website owned by top producing Pacific Union International realtor Carey Hagglund Condy. Carey has sold more than a quarter billion dollars in real estate since 2012 and has been the #1 highest grossing agent in Kentfield since 2011. WebSight Design has been fortunate to fully re-design her site every few years.
View Site
Emporio Rulli
rulli.com
Emporio Rulli is a cafe, wine bar, and pasticceria. Rulli has shops in Larkspur and San Francisco, California. Websight Design launched Rulli's website in the spring of 2018. Rulli's website was an out of box shopping cart solution that did not fit the company's needs. Rulli partnered with WebSight Design to develop a custom e-commerrce solution.
View Site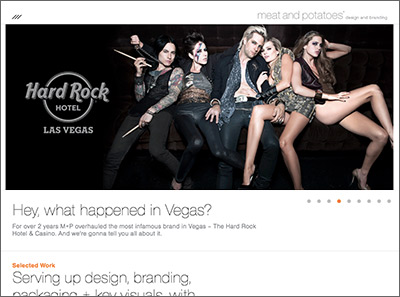 Meatoes
meatoes.com
Meat and Potatoes is an award-winning studio in the Los Angeles Market. Meatoes is a designer that provides world-class creative solutions. In February 2018, WebSight Design launched a newly designed website for Meatoes. WebSight Design and Meatoes have collaborated on websites for Sammy Hagar and Hard Rock Hotel and Casino.
View Site
Culinary Excellence
culinaryexcellence.com
With over 30 years of experience, Culinary Excellence prides itself on providing top level catering, and hosting of special event needs including event coordination and planning, floral design, lighting, furniture rentals and more. Culinary Excellence came to WebSight Design to revamp its website. WebSight Design was able to meet all their needs and build their new site within the client's budget parameters.
View Site
Tres Agaves Tequila
tresagaves.com
The makers of premium tequila and margarita mix wanted a website that was as rich and immersive as their products. This website leverages a beautiful design, cutting edge front end development techniques, and a robust administrator. We also provide hosting.
View Site
Fremont Group
fremontgroup.com
Fremont Group is the San Francisco-based private investment office for the Bechtel family. WSD designed and built the web site. Our work also included SEO, a Content Management System, and mobile versioning. The site also features Bechtel Family Global, FPR Partners, Fremont Private Holdings, and Fremont Realty Capital.
View Site
Mickey Hart
mickeyhart.net
Grammy award winning percussionist Mickey Hart is best known as a drummer in The Grateful Dead. Mickey is also an energetic painter, accomplished writer, and restless explorer. WSD design and programmed the site from the ground up. We also provide manged cloud VPS hosting.
View Site