Case Study
Fremont Group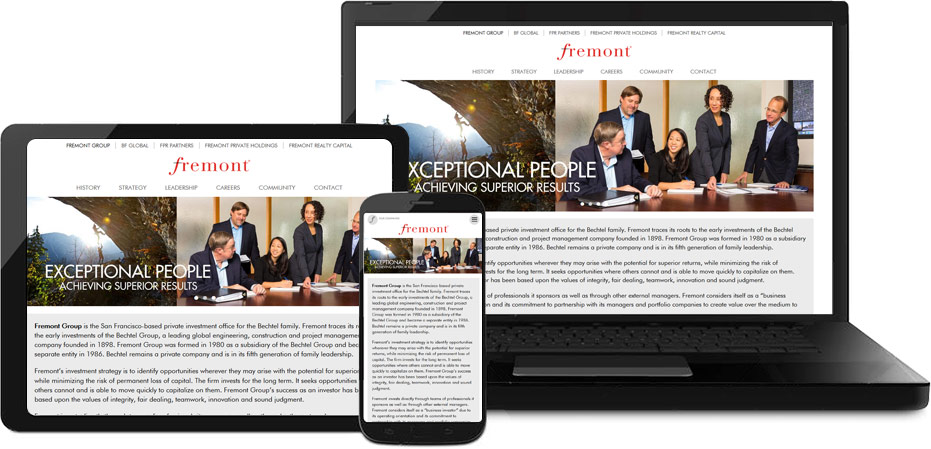 Fremont Group is the San Francisco-based private investment office for the Bechtel family. The company came to us looking to modernize their online presence, and consolidate the disparate websites several of the Fremont Group companies were using.

The Challenge

Fremont Group's five business lines needed to appear united under a cohesive brand and be accessible from a single website. The client was seeking to develop a website to showcase the Fremont Group's legacy, and , as well as one that was easy to update and maintain. Fremont's previous websites used Flash technology and outdated code, which did not reflect their current approach to timely investment in modern markets and was not adaptable for iOS devices.

Our Solution

The client preferred a "simple and clean" design approach, keeping the focus on visual imagery. We created photo visuals that communicated Fremont Group's message by pairing images of the company with nature, arts, and business photography. We used Fremont Group's existing logo, typefonts, and brand colors in an easy-to-navigate user interface. Two menus — one to navigate from company to company, and another to view pages within each company — allow the user ease-of-use, while layout consistency within each company unites the brand.

We also built a robust Content Management System (CMS) to allow Fremont Group to keep their content up-to-date. The CMS controls photos, text, case studies, and even an investment portfolio. Styles set up in the CSS document ensure that edited and new content follows Fremont's brand guidelines.
Each business line has its own sub-navigation allowing the various entities to highlight specific elements of their work uniquely. For example, Fremont Realty Capital, the Fremont Group's real estate private equity business unit, displays its Investment Experience
page as a visual grid. Whereas, Fremont Private Holdings demonstrates its investment history in a more narrative Case Study format. And though the information is presented differently, both the FRC Investments and the FPH Case Studies are maintained & updated via the client's custom-built CMS.
Fremont Group's website redesign also included migrating URLs to the new site via 301 redirects. 301 redirects are part of the pre-launch SEO services provided by WSD. A 301 response code helps to preserve SEO juice by telling web browsers and search engine spiders, that the content from one URL has moved to a new URL.