Pacific Union Property Management Case Study
Pacific Union Property Management
Pacific Union Property Management, a San Francisco Bay Area-based property management branch of Pacific Union Real Estate, has been a long-time client of WSD. The company contacted us to redesign their website with the goal of modernizing the user experience and applying Pacific Union Real Estate's updated branding.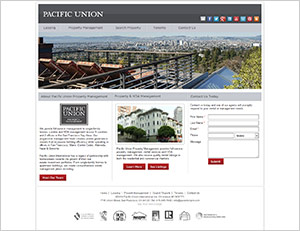 The Challenge
While Pacific Union Property Management's desktop-only visual interface needed updating, their site's longevity meant that it carried a lot of SEO/SEM value. WSD needed to preserve this value and add to it, while giving the site a fresh look. In addition to the visuals, the company's Content Management System also needed an upgrade. This presented an opportunity to examine what was working on the site from the ground up.
Our Solution
Using Pacific Union Real Estate's design guidelines and fresh branding, we created a user experience that felt up-to-date and relevant. Eye-catching, full-bleed photos draw the user's eyes to the two main call-to-action buttons on the home page, while secondary call-outs show the company's services and prompt the user to contact them. A clear navigation, with drop-down options, at the top allows the user to easily find any page. The site is also fully responsive for viewing on any mobile device.
Taking a look "under the hood" at the admin, WSD enhanced the Content Management System (CMS) to give the company more control over page content. The company can add and update rental listings, receive tenant applications and maintenance requests via online forms, manage team members and update service areas.
The service areas were restructured to allow for maximum SEM value. WSD is currently working with the client on SEM to expand the content of their service area sections.
The Results
Since launching the site in Q2 2016 Pacific Union Property Management has seen increase in user engagement. From Q1 to Q2, 2016:
Average session duration increased 15%
Bounce rate decreased 9%
Sessions on a tablet increased 48%
WSD remains actively involved in Pacific Union Property Management's digital marketing strategy. In Q3 2016 WSD built new service area pages in conjunction the client's expansion towards property management in the Peninsula and Silicon Valley. The new pages help drive local traffic, which directly impact rental requests and applications.