CASE STUDY:
Liberty Puzzles
An E-Commerce Site Built for Digital Growth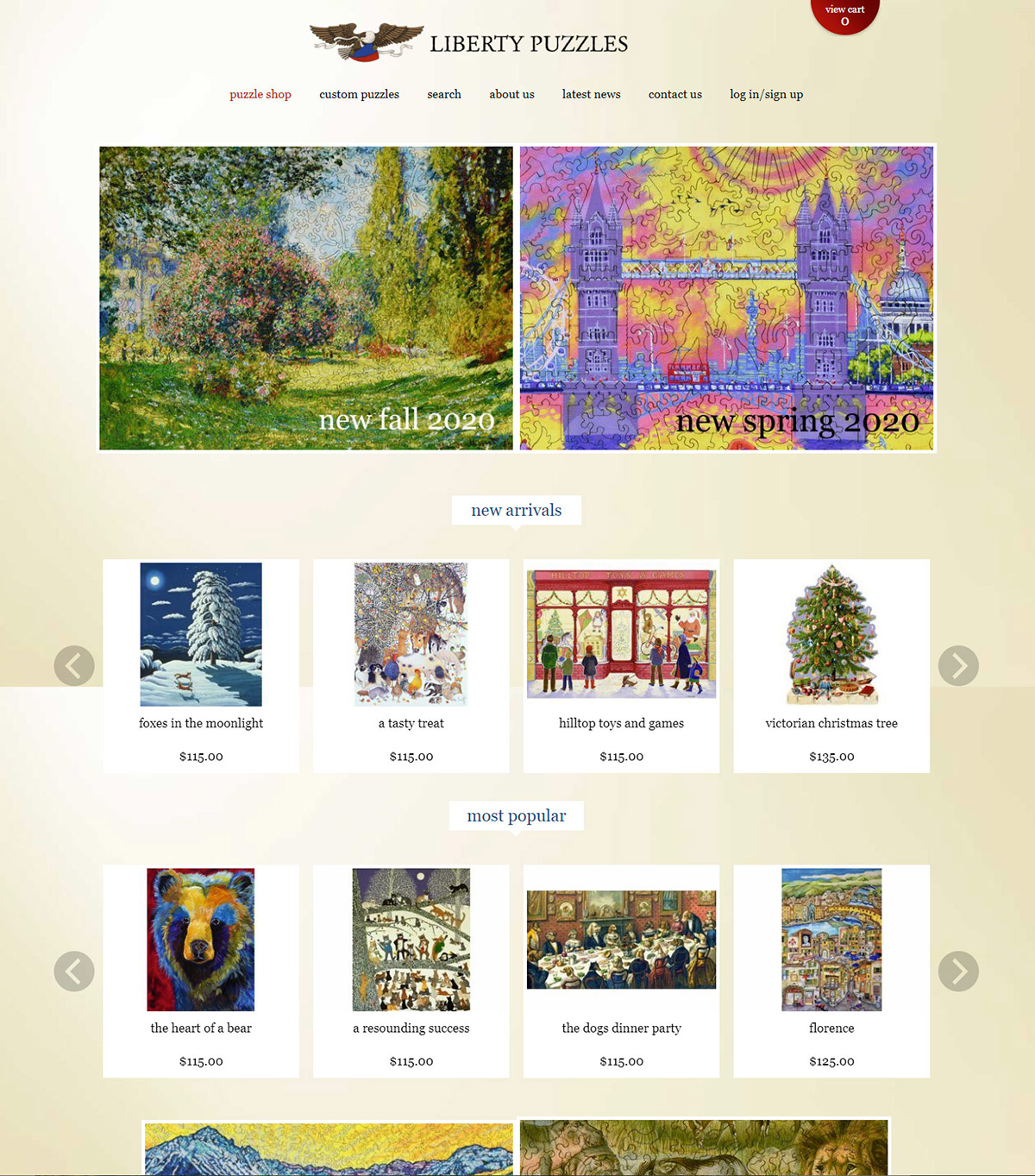 Client Overview: Located in Boulder, Colorado, Liberty Puzzles is a leading manufacturer of wooden jigsaw puzzles. Inspired by 1930s hand-cut wooden puzzles, Chris Wirth and Jeff Eldridge established the business in 2005 to revive the use of handcrafted whimsy puzzles. With eye-popping color, each wooden puzzle is an elaborate work of art designed with unparalleled craftsmanship. Each puzzle contains dozens of unique hand-drawn pieces intricately cut into the shapes of characters, animals, and geometric designs.
---

The Challenge
Recognizing the importance of providing a seamless user experience, Liberty Puzzles needed to upgrade its website and e-commerce solution.
With the intent of replicating the charm of their physical space in Boulder, the clients sought an enhanced website design and usability to uplift their online presence.

Our Strategy
WSD's project management, design, and development teams partnered closely with Liberty Puzzles throughout the discovery process to define key functionality needs to enable business growth.
Leveraging the project discovery phase to refine business needs further, we learned that the client needed a CMS with pre-designed templates to make it easy to create and add new pages quickly. Liberty Puzzles also wanted to make it easy for customers to search the 650+ puzzles available via the website and a custom e-commerce solution that would allow customers to upload pictures – enabling the seamless sale of custom jigsaw puzzles.
We then presented the wireframes and project plan that would achieve the business goals and evolving needs of Liberty Puzzles and the puzzle enthusiasts they serve online.
Services Provided
Website DesignWebsite DevelopmentContent Management SystemProject ManagementHostingE-Commerce Development

The Solution
Built for Growth
WSD designed the website to reflect the simple, friendly vibe of Liberty Puzzles' physical location – using an artesian, neutral background that allows the vivid puzzle designs to stand out.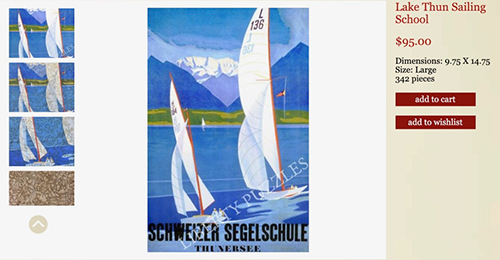 We built a custom CMS that made adding new web pages and updating images and inventory easy for staff. We also developed a customized search solution that would enable customers to quickly find the ideal purchase based on puzzle name, size, or type. Dynamic search engine optimization (SEO) was built-in to boost organic search results and increase website traffic.
Our expert development team created a custom e-commerce solution that enhanced the end-to-end transaction experience by improving the purchasing, credit card, sales history, and shipping functionality.
We also developed a robust reporting system designed to provide actionable sales insight for data-driven product decisions and business growth.

Expansive Results
Since upgrading libertypuzzles.com, the company has seen such an extraordinary increase in customer demand that they needed to double production space by opening a new 53,000 square foot manufacturing facility.
In January 2020, the companies success in bringing back antique puzzle design stirred local attention, catching the eye of Channel 9 news in Boulder, Colorado. Watch co-founders Chris Wirth and Jeff Eldridge in this TV exclusive. Click here to visit libertypuzzles.com.
Read more about Liberty Puzzles' increased demand and the impact the pandemic has had on business operations in this article. Follow Liberty Puzzles on Facebook or Instagram.
What Clients Are Saying
"The support is terrific and the owner, Alex, always answers his phone." — Suarez Benz

Personal Attention
You'll work with a dedicated project manager and speak directly with the people who build your project.