SEO Analytics and Reporting

Our web analytics consulting services will help you make sense of your website's traffic so you can better allocate your marketing budget to areas where your marketing return on investment is greatest. Let WebSight Design's team of web analytics experts take the guesswork out of your website statistics and provide you with measureable goals and valuable insights.
Competition on the web is fierce. Being able to track your online marketing efforts is critical to making meaningful improvements to your website's user experience and ultimately to the success of your business on the web. Having an effective web analytics program in place enables you to measure the current level of success of your marketing program and gauge how changes to your website and marketing efforts help or hurt your website's overall goals.
The amount of raw data that web analytics packages such as Google Analytics generate can often be overwhelming. Performing web analytics successfully is about sifting through the mass of available data to find the few critical elements that drive your primary business goals. Once these key elements have been determined, a set of key performance indicators (KPIs) can then be formulated and tracked. From there, the job becomes working to continually working to improve your website's KPIs and thereby your marketing return on investment (ROI).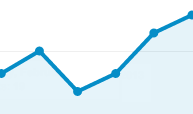 WebSight Design's web analytics consulting services help you make sense of your website's visitors - how people arrive at your site and what they do when they get there. Our comprehensive analysis of your web traffic will deliver actionable insights for both your online marketing campaigns and your website's user experience. Being in the web design and development business since 1995 has given us a unique insight into how all the pieces of a website work together to create a powerful user experience and enhance your brand.
Our web analytics consulting services are usually provided in conjunction with our other online marketing services-including search engine optimization (SEO),pay per click (PPC) advertising, email marketing, and social media. Whatever your needs may be, our team of online marketing and web analytics experts can help you grow and manage your brand along each of these important strategic channels.

If you would like to learn more about how we can help with your web analytics tracking, contact us today.