SEO Metadata Best Practices
WebSight Design is a an Internet Marketing agency that only practices white hat SEO techniques. WSD's main focus is to optimize all client's sites with descriptive and efficient metadata. SEO metadata is what appears on search engine result pages (SERP) when a website comes up for certain queries. It includes the title of the page and its metadescription (descriptive text below the title). Read on for auseful metadata best practices guide.
Websight Design also specializes in the implementation of Social Media Metadata and can add Facebook's Open Graph platform and Twitter Cards to cleints' websites and improve the click-through rate to pages shared on both social media platforms. Read on for a useful metadata best practices guide.
Meta Title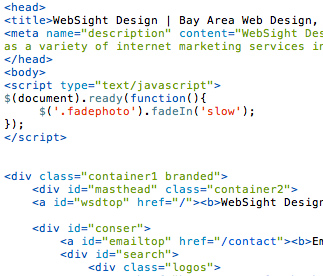 Meta titles should be short. It is best to keep them under 60 characters (spaces included). WSD recommends to describe what the page is about in the begining of the title and add the name of a website or company at the end. Using keyworded meta titles is a good way to give signals of relevancy to search engines. Only include keywords in the title if they are also included in the body content of the page. Only optimize a page with keywords for which it is relevant. Google relies heavily on the title of a page and its relevancy to the content on the page to determine its appropriate ranking.
Example: SEO Services | Websight Design, Inc
Meta Description
The meta description is the text that appears below the title of the page on search engine result pages. This text can be entirely customized by the owner of a site, but Google reserves the ability to change it and use content from the page in the meta description if it judges the original description non-descriptive, inappropriate or irrelevant to the actual content of the page.
A meta description should not be longer than 160 characters, spaces induded. It should describe what the page is about and include at least one keyword used in the corresponding title of the page.
Example: WebSight Design's Internet Marketing services include best practice SEO, Pay Per Click advertising, social media and reputation management, and email marketing.
Keywords
WSD's custom-built site administrators include metadata modules that allow page owners to control the title of all pages, the descriptions, and also a keyword field to associate specific words with the content on the page. In the field where relevant keywords are inserted, WSD's recommend to only include keywords present in the specific page. Adding irrelevant keywords or too many keywords can result in what is called "keyword stuffing". Google tends to downgrade rankings for pages that use irrelevant keywords in the metadata. WSD's suggest keeping the number of keywords inserted in this field between 1 and 3.

Websight Design utilizes SEO metadata best practices. Contact us today to see how we can help your site's SEO.