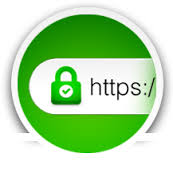 As always, the hunt for mini tricks and tips to up one's ranking in search engines is a center-point of topics buzzing about the internet. The most recent clue from Google to get an extra boost in priority, is to add a SSL certificate on your site. Google wants all website owners to make the switch from HTTP to HTTPS to provide a secure and trusted experience for users.
Google is still assuring quality of content is far more important for SEO rankings than SSL certifications and is claiming that HTTPS sites will only see a "slight boost" in rankings. Over time, this could change to a much higher affected percentage.
SSL certifications encrypt sites making it more difficult for hackers to steal valuable information from the site, including user names, passwords, and more consequential details like credit card information and social security numbers. This is not a cheap and easy fix for site owners, but it will prove to be worthy and effective.
To get an SSL cert, this requires a dedicated virtual server with its own IP address. At WSD, we offer affordable dedicated server options that are maintained in San Francisco and monitored 24/7. For SSL certificates, we offer Virtual Private Server Hosting (VPS) which includes a dedicated IP address that can be used for SSL certificates. VPS options offer security and flexibility, fully dedicated IP addresses, and customizable server functionality without the expense of physical dedicated servers. Each VPS is configured specifically to our individual clients' needs.
To both secure your site and boost your search engine rankings, contact WSD for premier hosting services. Our secure and well-managed data centers will allow you provide and safe and well-trusted site for your clients.