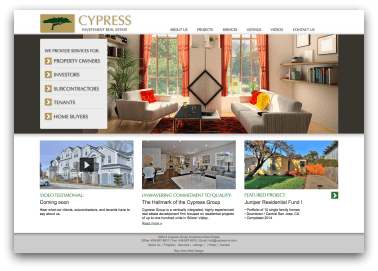 The Cypress Group
is not your typical, run-of-the-mill real estate investment company. The difference is in their ability to work with clients at any stage of the development process--all the way from acquiring the raw land to managing or selling the property. The scope of their expertise is so broad that when they approached WebSight Design to handle a major redesign of their website, we knew a clearly defined conversion path architecture was in order. When visitors hit their new,
beautifully designed website
, they are now presented with a navigational system that guides them effortlessly to the exact services they're looking for, with a corresponding web form tailored specifically to their needs. This allows visitors to quickly communicate what they're looking for to Cypress, who in turn is able to effectively convert web visitors into qualified leads. It's a win-win. The five different conversion path options are: Property Owners, Investors, Subcontractors, Tenants, and Home Buyers. The starting point for these paths is prominently displayed on the homepage and on other top level pages throughout the site. At any point in a user's visit, they can click to reach out to Cypress in their particular area without feeling like they're landing on a generic web form. Another great aspect of the site we designed for Cypress is that it is
mobile responsive
. No matter what type of device you view it on, you will have a consistent experience and will be able to find the information you're looking for. This consistency extends to the customized web forms, which you can complete just as easily on a mobile device as you can from a desktop computer. The Cypress Group's website now effectively conveys the level of professionalism and confidence that the firm has always embodied. Would you expect anything less from a vertically integrated company that's at the same time a licensed General Contractor, a licensed Real Estate Broker, a certified Property Manager,
and
an experienced developer and designer? Cypress can provide any of these services as a stand-alone offering, but they're at their best when a client approaches them to handle
all
 aspects of the process. Here at WSD we like to think we have that in common with them--except our clients ask us to handle all their
online
real estate needs instead.