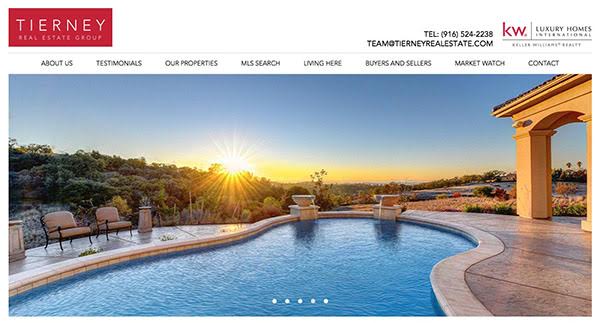 ---
Long-time WebSight Design (WSD) Client,
Karen Fairty,
introduced her sister, Maura Tierney, to WSD.
Maura and David Tierney are the team that make up Tierney Real Estate Group (T
REG). They reside and work in El Dorado Hills, a region of Sacramento, where they are established as leading agents and experts on properties in the area.
In  2016, Tierney Real Estate Group migrated from Coldwell Banker to
Keller Williams
Luxury Homes International division.
Maura and David
wanted a new website and new look to correspond with the move. TREG signed on with WebSight Design to produce a mobile-friendly, modern site with intuitive navigation. Graphically, WebSight design used the Keller Williams red as an accent color on the site to reflect the alignment with the parent company. Besides the red, only neutral colors are used for design elements, this allows the eye-catching photos to take center stage. The Tierney's new Content Management System allows them to easily edit and add content, and keep their property listings up-to-the-minute.
The listings section highlights video content by giving any videos priority over photos. If a property listing has a video, the video will display as the first photo. This functionality is seamless for the administrator, and maintains a consistent look, from listing to listing.
WebSight Design also integrated a 'multiple listing service' (MLS) which allows agents to cooperate on common listings. The client liked this tool from their previous site, so WSD ported over the MLS functionality, updating the UI to reflect the new site's branding.
The new website is fully
responsive
.
Tierneyrealestate.com launched in September 2016.