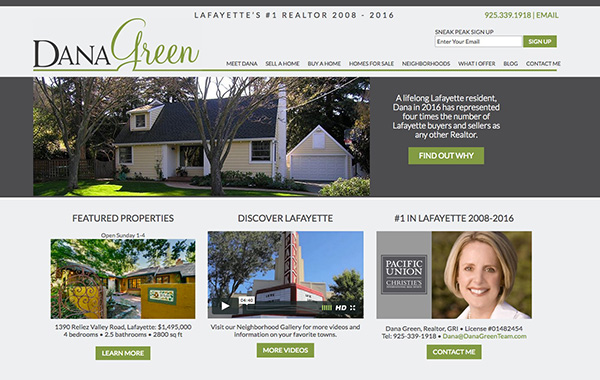 ---
Dana Green
is the top real estate agent in Lafayette, Lamorinda, and Contra Costa County and
#31 in the entire country
. The depth of her business runs much deeper than statistics.
Dana's success
is built upon a love of Lafayette, the town where she was born and raised. Her knowledge of the area is founded upon years of being a resident, and integral member of the community. In November 2016, WebSight Design (WSD) launched a new website for Dana Green Team. Featuring her position as the top agent, as well as valued community member were two of the objectives of the site's redesign. Dana liked the branding of the previous site, so the redesign was a matter of keeping the basic look, functionality and flow of the site, while giving it a more modern, streamlined look. Unlike the previous site, the new website is
fully responsive
. The new site also features the  
latest version of the WebSite Design Content Management System(CMS)
. With a simplified interface, the CMS allows for hands on easy and efficient edits and updates to listings and other content. Dana Green's new website includes photos and video galleries, and contact forms that allow users to easily access agents and request property information. For streamlined management of
properties for sale
, the WSD content management system includes a full properties database, including the ability to archive past sales. Dana shares her real estate, interior design and community expertise in her
blog
, which dates back to 2011.