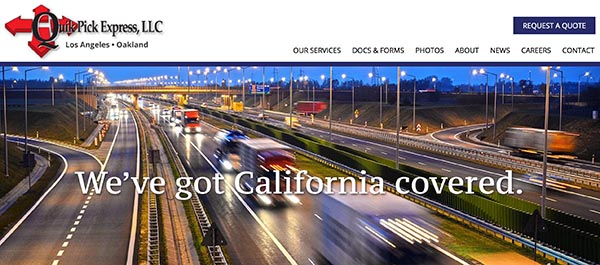 Quik Pick Express LLC is a long time WSD client. We originally built a web site for them in 2010. In 2017, they approached us to completely redesign their site from the ground up. The new site is built with responsive mobile web design so it looks great on a phone, loads fast and allows Quik Pick's customer base to easily access the site "on the go." Other benefits of the redesign include: an updated brand, an online form repository, a photo gallery, a news module, and a jobs section. Since the site re-launch, Quik Pick has received regular inquires via the online form. With over 600,000 square feet of clean and modern warehouse facilities in both Northern and Southern California, Quik Pick Express provides these logistics services:
• Container Drayage • Full Truckload and LTL Trucking • Transloading • Load Consolidation/Deconsolidation • Heavy Lift • Bonded Trucking and Warehousing • Refrigerated Container Plugs • Customs Courier service.
Quik Pick's warehouses are conveniently located near the Long Beach/Los Angeles Harbor and also near the Port of Oakland. Quik Pick supports the "Green Initiative" with its fleet of green, low emissions trucks.