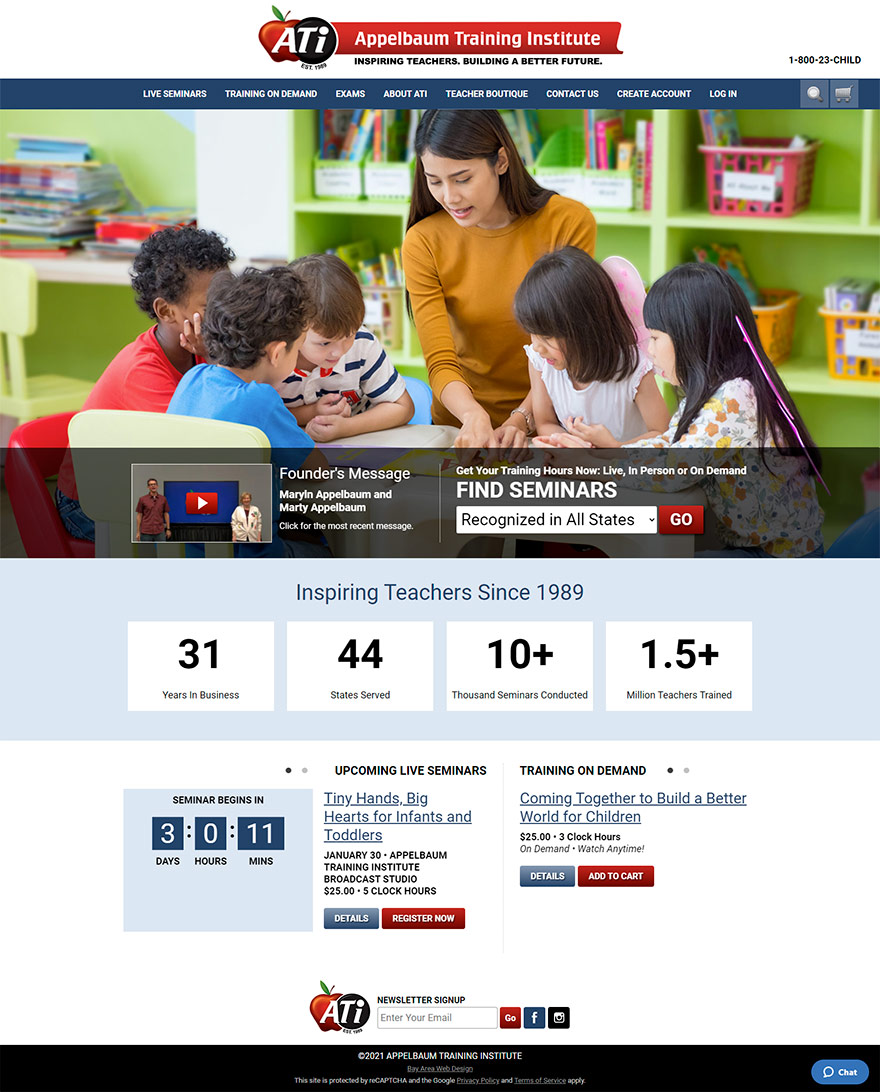 In December 2020, WebSight Design (WSD) launched a newly designed and developed website for The Appelbaum Training Institute (ATI).
Founded in 1989, The Appelbaum Training Institute (ATI) has helped over 1.5 million educators throughout the United States, Canada, and other countries reach their goal of positively impacting the lives of the children in their classrooms.
The ATI project was referred to WSD by Jonathan Lack, a friend of ATI's CEO, Marty Appelbaum. In 2019, WSD launched roiventures.com. Jonathan is the Principal of ROI Ventures, LLC and a consultant for long-time WSD client Carey Hagglund Condy.
With the onset of the pandemic, ATI faced the challenge of being unable to offer in-person seminars. As a result, this project's primary focus was to create a virtual platform to deliver a seamless and accessible online educational experience.
Atiseminars.org now provides a comprehensive virtual learning solution for educators that enables users to quickly sign up for a seminar, pay for registration, watch a lecture, take an exam, and receive a certificate.
Our approach to the website design and user-experience-wise centered around several key business goals:
Reinforce the brand. Staying true to brand aesthetics, we strategically leveraged the ATI logo, brand colors, and fonts to provide a consistent and cohesive brand experience.
Communicate thought leadership and longevity. To reflect ATI's long-standing commitment to education, we added "Since 1989" to the logo. A dynamic and eye-catching statistics section titled "Inspiring Teachers Since 1989" was added to the home page to draw further attention to the over 1.5 Million teachers that received training via ATI.
Provide easy navigation for ATI's target audience. With ease-of-use in mind, we created multiple ways to browse seminars and exams: by date, by state, by topic. We also developed a "chat" feature that provides real-time assistance.
Leverage visuals that were diverse and fun. ATI is a culturally diverse group of early childhood educators that make learning fun. With this in mind, we selected visuals that reflect ATI's educators and their students.
Whether you are interested in learning more about ATI or want to check out our newest website design for ideas on how to deliver your services online, we'd like to encourage you to take a tour of www.atiseminars.org.
Services Provided
Content Management SystemE-Commerce DevelopmentE-Learning Platform DevelopmentHostingProject ManagementSEOWebsite DesignWebsite DevelopmentWebsite Maintenance