Jerome Baker Designs (JBD) is known by cannabis enthusiasts worldwide for artistic one-of-a-kind hand-blown glass bongs. Founder Jason Harris aka Jerome Baker, started his glass blowing career by apprenticing with famed glass artist Bob Snodgrass. He later worked hand-in-hand with seventh-generation glass blower Hans Ittig in Wertheim. Today, JBD is at the forefront of glass art's science and technology. The company has earned various industry-related awards and created custom-made pieces for celebrities, such as Santana, Snoop Dogg, George Clooney, George Clinton, 311, Sublime/Skunk Records, Widespread Panic, Grateful Dead, Rita Marley, DMB, Phish, Slayer, and DRI.nk Records.

JBD recently partnered with The Kind Group (TKG) for marketing and merchandising services. As a result, in February 2021, the custom e-commerce website launched, providing a seamless way for customers to browse and purchase wholesale merchandise.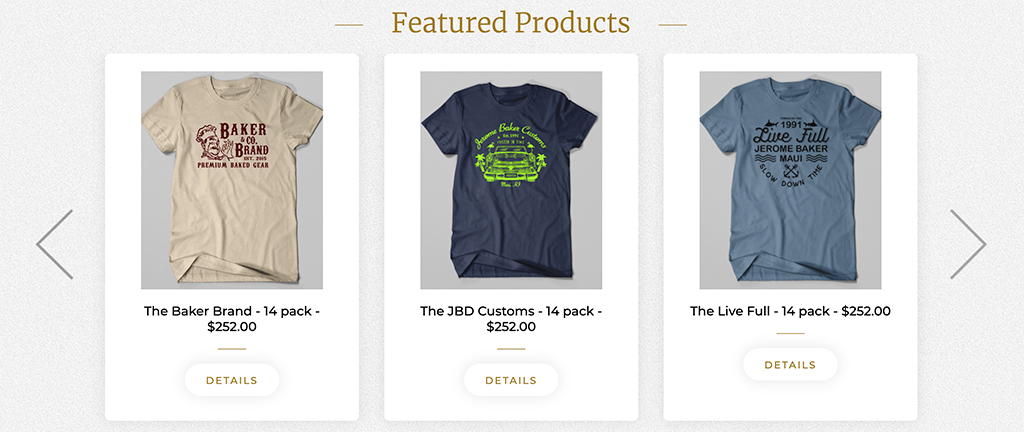 The Kind Group (TKG),founded by merchandiser Dean Gelfand, offers cannabis-related companies a way to remain focused on business operations while adding revenue streams. TKG partners with top brands, like Jerome Baker Designs, to manufacture and market brand apparel and accessories. As a core part of its marketing services, TKG creates a branded e-commerce microsite that functions as a consumer platform for brand merchandise and distribution.
TKG ensures quality branded merchandise, builds and manages the webstore, handles all manufacturing, fulfillment, and retail aspects while providing marketing support and licensing deals to help monetize the brand and amplify its message to consumers.
JBD is the second company to launch a custom TKG e-commerce microsite. In January 2021, TKG, in partnership with WebSight Design, created the Farmer and Felon e-commerce merchandise site. Read more about our work with TKG and the Farmer and the Felon via our blog.
Whether you want to check out our latest e-commerce website or simply want to keep up with Jerome Baker Designs we suggest you check out and follow them on Instagram or Twitter.
WSD Services:
Website DesignWebsite DevelopmentE-Commerce DevelopmentProject ManagementHosting
Up Next
WebSight Design will be redesigning the corporate website for The Kind Group. We are excited to provide this company with a new way to engage online!