Few people have made such an impact on the California real estate scene as Mark McLaughlin. As a serial entrepreneur, Mark built a real estate empire that in 2017 ranked as the fifth-largest brokerage in the US, with a sales volume of $14.1 billion.
From Morgan Lane and Pacific Union to Compass
With commercial experience dating back to 1991, Mark made moves within the residential real estate space in the fall of 2006 by establishing Morgan Lane in Marin County, CA. Leading with the profound belief that you have to "get the people right or nothing else matters," Mark rapidly assembled an elite team of twenty-eight real estate professionals across four offices, capturing a +20% market share in one of California's top markets.
Morgan Lane's success and Mark's fortitude led the company to acquire Pacific Union International (PUI) in 2009. Mark grew the company from $2.1 billion to $14.1 billion in sales volume in nine years. In August 2018, PUI joined Compass, amassing 6,400 real estate professionals representing $28 billion in sales volume.
As the President of Compass California and later Chief Real Estate Strategist for Compass, Mark's leadership and business experience helped the company excel with mergers, acquisitions, and expansion efforts. On September 30, 2021, Mark said farewell to Compass as he departed for the next chapter in his life. He left his Compass crew with some heartfelt words of wisdom. Read the full blog by clicking this link.
I have learned more from all of you than you could ever imagine. I will miss this team and know it's irreplaceable – a unicorn of a different kind.

Compass has amazing vision and sets a ferocious pace. Such a pace that at times it's only appreciated after you pass a milepost vs. while you are approaching it. Growth, technology and tools before you know you need them. Please embrace this pace, absorb what you can, when you can–you will be better for it!

When you think of my departure, please know I am at the age and time in my life that it's only appropriate for rising stars to take over day-to-day operations. My journey will certainly continue, but more likely in strategic roles lending my vision and experience to emerging or transitioning businesses.

– Excerpt from Mark McLaughlin's letter to his Compass colleagues
Mclaughlin-ventures.com
Never one to be idle, Mark launched a new business, McLaughlin Ventures, on October 1, 2021. The company provides strategic business and advisory services. WSD worked closely with Mark to design and develop mclaughlin-ventures.com.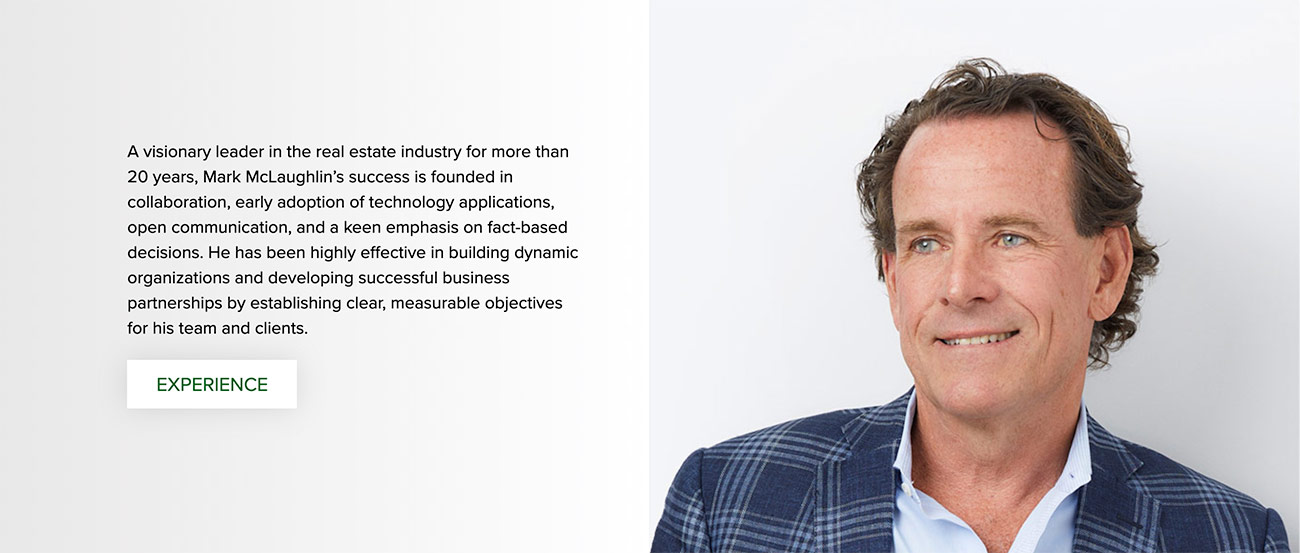 A long-time friend and business partner
Building mclaughlin-ventures.com evoked a sense of nostalgia for us at WebSight Design. Our partnership with Mark McLaughlin started in February of 1999 (yes, we've been in the biz that long) when we created a site for his brokerage, The Principal Group, Inc. We've been working with Mark ever since.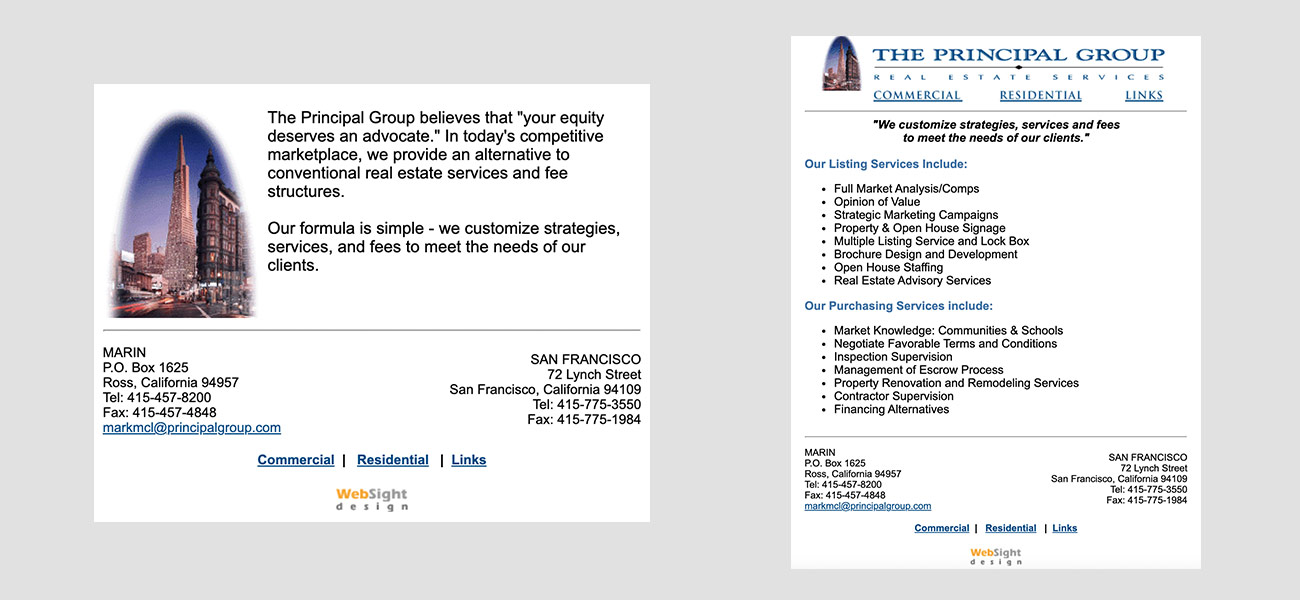 We've built dozens of websites for Mark, his family, friends, agents, and joint ventures through the years. In a blog titled, "This one hurts – push hard for medical attention," Mark shares a bit about his long-standing partnership with WSD's CEO, Alex Paine. Click here to read the full blog.
I started my first brokerage company in 1998. The Principal Group, Inc. We were promptly involved in litigation with the Principal Financial Group – details of our victory to be shared at our next social gathering.

Alex Paine, who many of you know, and Rich Woodward of WebSight Design were 100% of our web, internet and IT infrastructure team for our launch in 1998 and through the next decade.

As we launched Morgan Lane [2006] and acquired Pacific Union [2009], Alex and Rich were gold to us. They were our IT backbone, our pre-acquisition "black-ops" and, like you, available 24/7!

I could go on and on with what they both mean to me as business professionals, but this is about my friend Rich, life and the importance of relationships.

– Excerpt from Mark McLaughlin's blog from August 2, 2021 via Compass California
The height of our work with Mark was between 2006 and 2018 when our CEO Alex functioned as the outsourced Chief Technology Officer for Morgan Lane and Pacific Union. WSD was involved in unique design, development, recruiting, and IT projects. Today, a substantial portion of our real estate client base could be traced back to Mark McLaughlin, Pacific Union, and Compass.
If you'd like to learn more about Mark McLaughlin, we suggest reading the Compass Where We Are Now blog series and subscribing to the McLaughlin-Ventures blog. Click here to visit mclaughlin-ventures.com.
Thank you, Mark, for over 20 years of business partnerships, for your friendship, and for your encouraging words.
WSD Services
Content Management SystemDigital MarketingE-Commerce DevelopmentE-mail MarketingHostingIT ConsultingLead GenerationProject ManagementStrategic AdvisoryWebsite DesignWebsite DevelopmentWebsite Maintenance