Finding the right financial advisor for institutional investments and personal wealth management can be a daunting task. Fortunately, Douglass Winthrop Advisors (DWA) is a trusted SEC Registered Investment Advisor to individuals, families, trusts, pensions, and endowments. Headquartered in New York City, with offices in Washington, D.C., and West Palm Beach, Douglass Winthrop Advisors has an outstanding team of experts committed to creating the best strategy for protecting and compounding clients' capital.
After experiencing substantial growth, DWA sought to refresh its brand and online presence. We were thrilled when DWA engaged us to develop a new site to help them better connect with clients online.
A Sophisticated New Website
To develop the new website, we worked closely with the team at Douglass Winthrop to gain a deeper understanding of their business goals and website needs. We also met with their creative firm, GhostRanch, to coordinate the application of new brand assets. Then, we sketched out the wireframe as well as subsequent designs.
Our goal was to create a modern, visually appealing site that was engaging and informative. The team also wanted to ensure the new site would be easy to manage, as the existing site was hardcoded and uneditable for staff.

Knowing that their highly skilled and trustworthy team of experts sets them apart from others, DWA engaged a photographer to capture candid shots of staff in action. Our designer thoughtfully placed these images across the site to visually reinforce the superior level of service clients enjoy.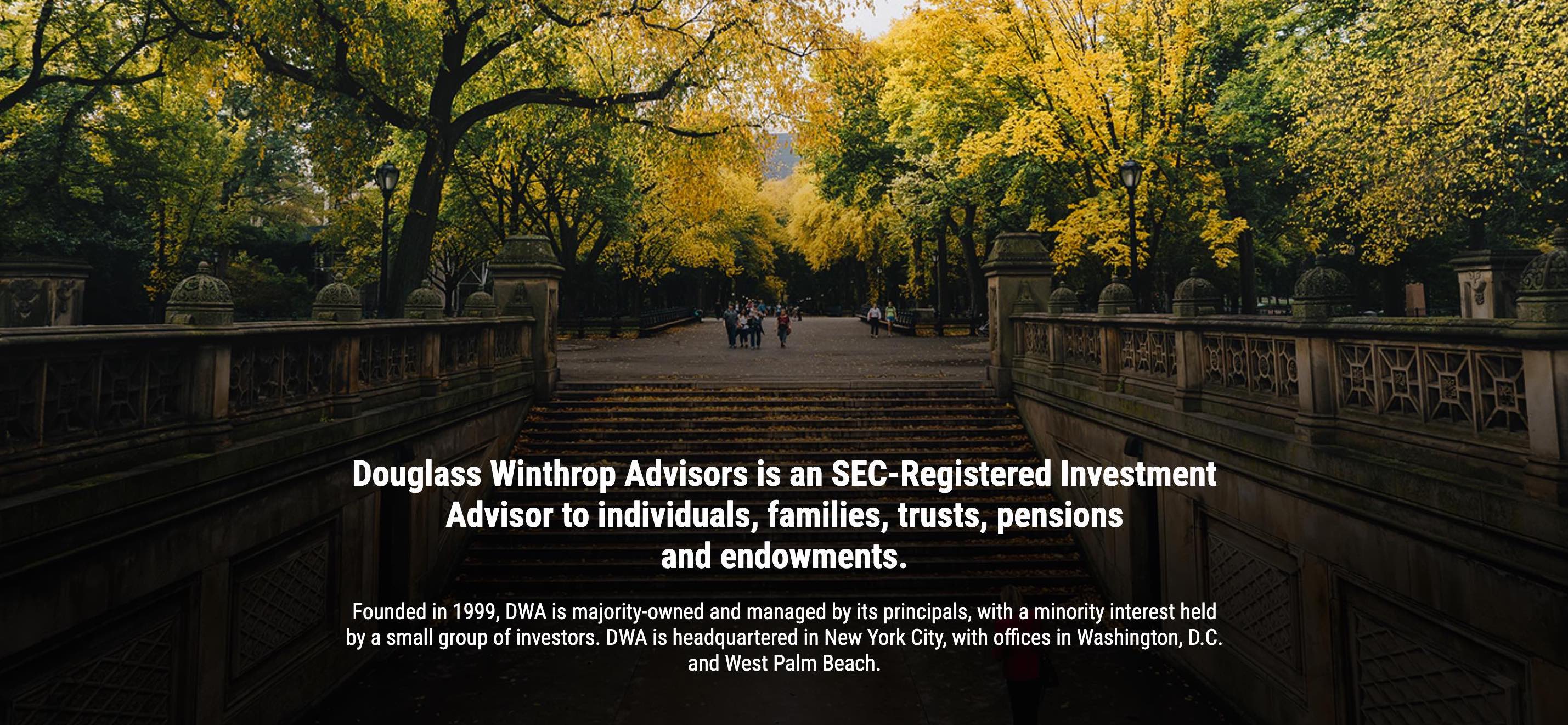 Additionally, we leveraged carefully selected images of urban landscapes to establish a sense of place and purpose for each page. Shown above is Poets Alley in Central Park. This photo provides an iconic New York backdrop perfect for the About Page.
Diligent and thoughtful, our team of designers and developers crafted a clean yet sophisticated design, a video sequence for the home page, and animated images across the site for additional motion. We enjoyed collaborating with the team at Douglass Winthrop to weave their history, investment strategies, and brand imagery into one easy-to-navigate website that is easy to maintain.
"We are so happy to be live! On behalf of the entire DWA team, thank you SO much for all your hard work designing our new website. It looks so much better, and we've received great feedback from everyone. Again, thank you so much for all your help. It has been an absolute pleasure working with all of you."—Olivia Le Blan, Vice President
Explore our newest site and learn more about Douglass Winthrop by visiting douglasswinthrop.com.

WSD Services
Content Management SystemHosting Project Management Website DesignWebsite Development Digital Marketing