In November 2019, WebSight Design (WSD) launched a new website for the Edgewater Casino Resort. Situated on the west bank of the Colorado River, the Edgewater Casino Resort is a vibrant blend of gaming excitement, spectacular live entertainment, and great dining.
Edgewater-casino.com utilizes a template developed for several Golden Entertainment properties. The customized modules can be skinned with the branding of any other property, allowing for a different look and feel while keeping the functionality intact.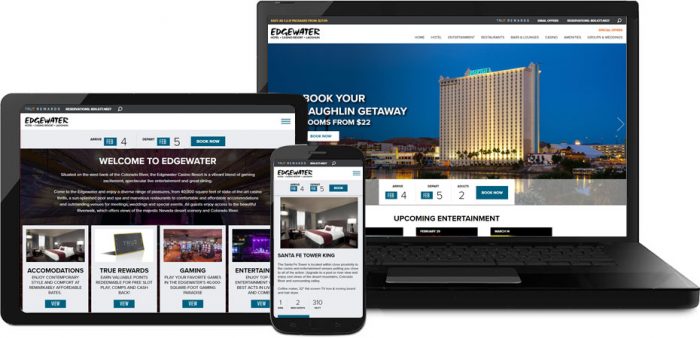 In the content management system, Golden Entertainment can shift, add or remove the modules. The website's front-end design was built to parallel the back-end's flexibility.
Earlier this year, WSD launched True Rewards and Colorado Belle for Golden Entertainment. WSD is currently working on additional projects for Laughlin Event Center and the Stratosphere Hotel, Casino, and SkyPod.
Services Provided
Website DesignWebsite DevelopmentProject ManagementHostingContent Management SystemAPI DevelopmentWebsite Maintenance