Websites have long been a marketing cornerstone for large publicly traded companies and small local businesses - acting as a digital connection; many companies search online for inspiration and awareness of new and evolving business opportunities.
The new Golden Video Gaming Technology (VGT) Services website is an excellent example of a business-to-business marketing site explicitly developed to help drive awareness of new business opportunities within a specific state.
About
Golden VGT is the largest distributed gaming operator in the U.S. They operate over 10,500 VGT devices across the states of Nevada and Montana – expanding now into Pennsylvania. The company is a subsidiary of publicly traded Golden Entertainment (NASDAQ: GDEN),an American gaming company that operates casinos, taverns, and slot routes.
Approach
Thoughtfully designed and developed to align with Golden Entertainments brand, GoldenVGT.com launched onJuly 21, 2020. The project leveraged a variety of WSD's services, including website design, development, code level SEO, and VPS hosting.
WSD designed the site to comply with corporate gaming regulations and Web Content Accessibility Guidelines (WCAG).
For a website to be WCAG compliant, it must follow specific technical standards for people with a wide range of disabilities – including visual, auditory, physical, speech, cognitive, language, learning, and neurological disabilities.
This highly visual and engaging website provides a fresh, informative platform for Pennsylvania businesses to learn about video gaming opportunities and services.
A Growing Partnership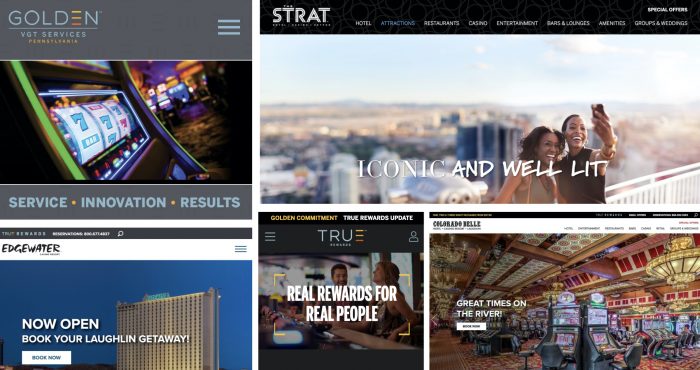 In early 2019, WSD partnered with Golden Entertainment to develop a series of websites. Since that time, WSD has launched five websites to showcase their True Rewards program, Colorado Belle Hotel, Resort and Casino, Edgewater Casino Resort, The STRAT Hotel, Casino, and SkyPod, and Golden VGT Services.
From large publicly traded companies to authors, artists, and small business owners, WSD thoughtfully designs websites to keep people connected online. Check out our newest website by visiting www.goldenvgt.com.
Services Provided
Website DesignWebsite DevelopmentProject ManagementHostingContent Management SystemAPI DevelopmentWebsite Maintenance