Real estate has long touted the age-old cliche location, location, location when describing a property's desirability and value based on geographical position. The phrase still rings true today, and few understand that better than San Francisco property investment expert John DiDomenico.
A Local Focus
San Francisco has many diverse neighborhoods that vary significantly in value – which makes being in touch with the micro-markets essential to helping clients make smart property investments.
Fortunately, John DiDomenico knows all about finding the right neighborhood with the right vibe to fit his client's lifestyle and financial goals. For him, guiding his clients through the real estate investment experience is more than just buying and selling homes – it's also about investing in the local community and becoming a part of a neighborhood.
"As a San Franciscan, I understand what it is to love the community in which you live – to belong to a neighborhood and be a part of the local culture long-term," said real estate expert John DiDomenico. "Whether I'm buying from local businesses or helping clients invest in property for their children, I enjoy the continuity of living and investing in our city."
As a result, when we met with John to discuss his desire for a website re-design, it was no surprise that capturing the unique qualities of San Francisco neighborhoods was at the top of his list.

Community-Centric Design
Working closely with John DiDomenico, our design experts outlined a strategic plan for visually bringing San Francisco's neighborhoods to life online. We sketched out wireframes for capturing the sights, culture, and vibe of the communities while highlighting local businesses and recreational activities. We rounded out the project planning phase by outlining how the web design and Content Management System (CMS) would easily pair a property listing with the related neighborhood.
The website received all-new photography, neighborhood content descriptions, and art styles that paint a picture of what life is like in some of San Francisco's top neighborhoods.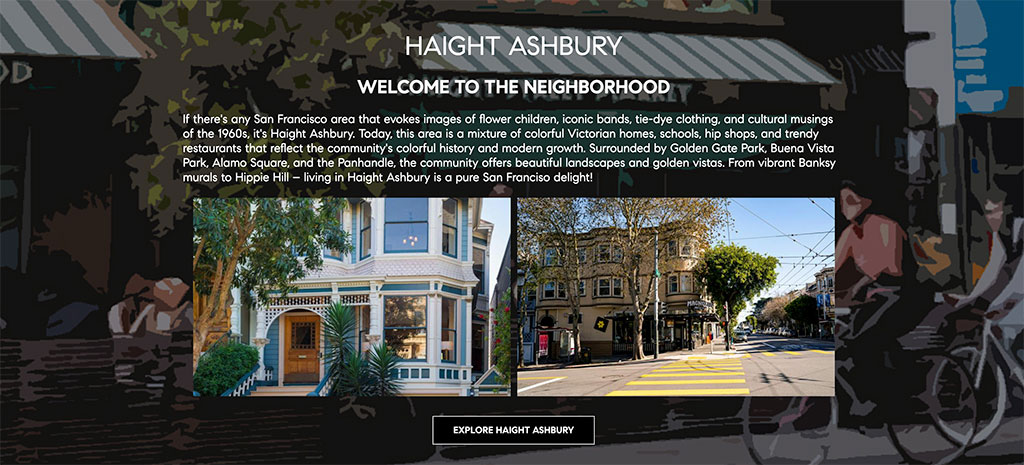 The Result
On February 16, 2021, the new johndidomenico.com went live with an elegant and clean web design that enables our client to promote a property and the correlating neighborhood simultaneously.
A complete re-design of the property detail page creates cost efficiencies for our client while increasing web traffic by enabling a property page to be used as a stand-alone microsite for marketing purposes.
The re-imagined blog, sticky navigation, edge-to-edge image rotators, and web-part animations all work to provide a cohesive, mobile-friendly online experience that reflects our client's service and professionalism.
WSD Services
Website DesignWebsite DevelopmentDigital MarketingContent Management SystemHostingProject ManagementWebsite Maintenance
An Ongoing Client Relationship
The new johndidomenico.com is the second website WSD has developed for John DiDomenico. As San Francisco Bay Area natives, we are excited to watch John's journey as his business grows and thrives.
Whether you want to check out our latest website design or want to keep up with the San Francisco real estate market, we'd like to encourage you to visit johndidomenico.com and follow him on Instagram or Facebook.