CASE STUDY:
Monroe Gallery of Photography
An Online Exhibit of Breathtaking Photojournalism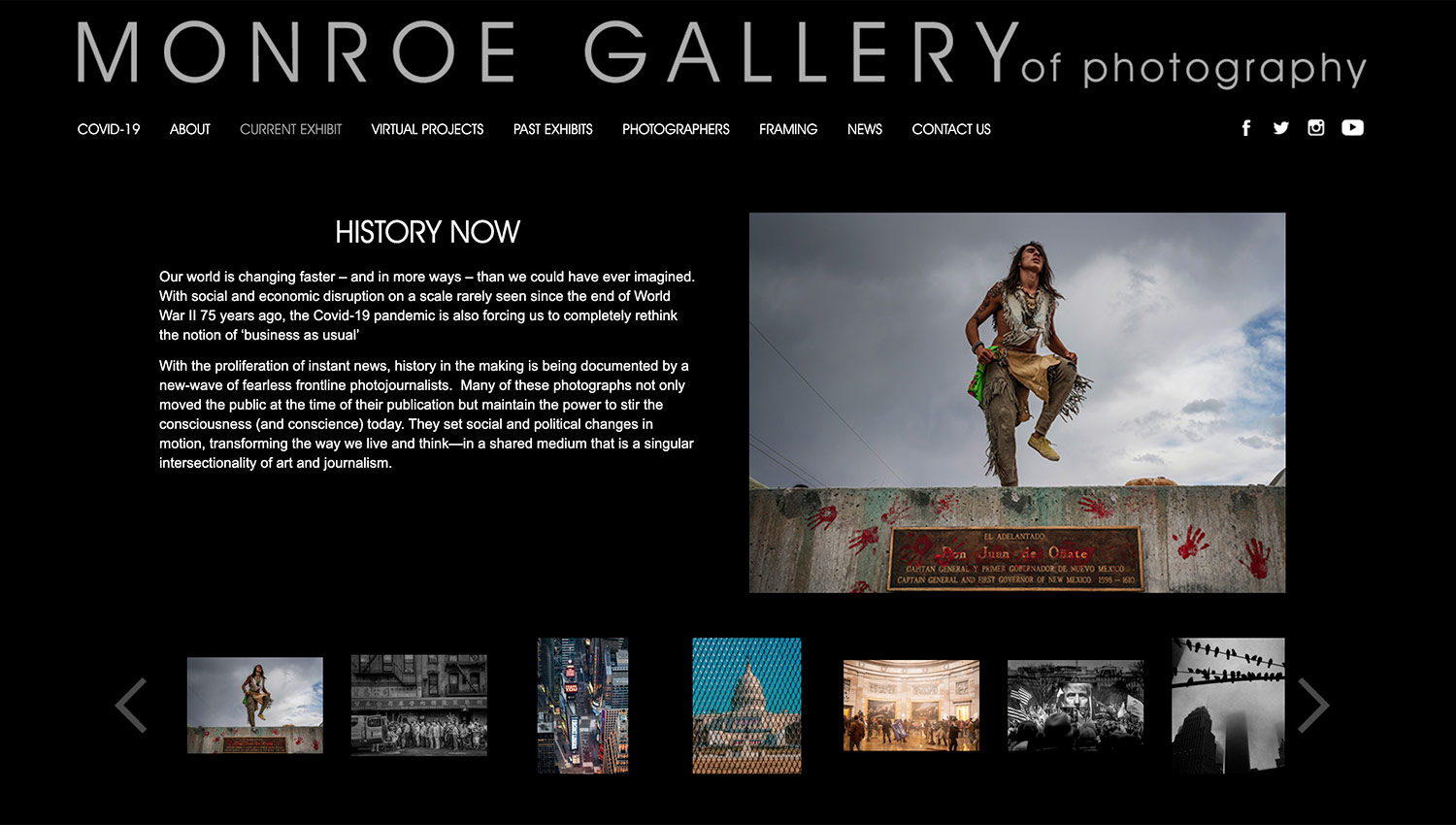 Client Overview: Located in the bustling art community of Santa Fe, New Mexico, Monroe Gallery of Photography specializes in 20th and 21st-century photojournalism and humanist imagery. Gallery owners Sidney S. Monroe and Michelle A. Monroe work with famed photographers, including LIFE Magazine photojournalists Margaret Bourke-White, Alfred Eisenstaedt, Bill Eppridge, Bob Gomel, and Carl Mydans.
---
The Challenge
For many, art causes an emotional experience often correlated with being in a museum or gallery – physically standing in front of a piece. However, with an escalating desire to connect with audiences online, the Monroes wanted to replicate art's physical experience to a digital platform, enabling them to share their artist's work on a global level.
With the intent of hosting virtual exhibits, the Monroes needed a custom CMS solution to create new exhibitions and easily manage artists' photography collections. They also wanted their website to mirror the crisp black and white monotone look of their physical location.
Our Strategy
As designers and developers of the Monroe Gallery's previous website, the team at WSD understood the clients evolving needs and business goals. We knew the client's 18-year-old website needed a complete redesign to enable modern functionality and a more robust CMS to support their desire to host online exhibits and showcase artwork.
With close client collaboration, we spent time re-thinking how to create an artistic connection online. WSD engaged in internal project planning sessions to outline the project requirements. We then presented the wireframes and technical solutions to help the Monroe Gallery of Photography provide an impactful online experience.
Services Provided
Website DesignWebsite DevelopmentContent Management SystemProject ManagementHosting
The Solution
In August 2020, WSD delivered a beautiful, visually engaging website solution for the Monroe Gallery of Photography. Our expert designers intentionally created the site's aestetics to carry over the feeling of the gallery's physical location to the website. As a result, people who visit www.monroegallery.com experience this simplistic black and white look, similar to the gallery in Santa Fe – where visitors enjoy the large open space and crisp white walls intended to reduce distraction from the artwork.
Our development team built a custom CMS to make it easy for the Monroes to curate images, manage photographer collections, and create new online exhibits.
Understanding that the gallery often has a photographer's entire career of work – decades of photos that range in genres from sports to pop-culture, we designed the collections to provide a storytelling experience.

The Result
New virtual opportunities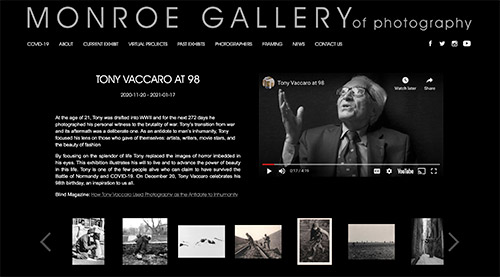 Since launching the website, the Monroe Gallery of Photography has explored new virtual avenues, including video use. By working with their artists, the gallery can now feature videos that encapsulate exhibits – an experience that was previously only available in-person.
In November 2020, the gallery launched its annual Tony Vaccaro exhibit to honor the artist's 98th birthday. In light of the pandemic, the artist collaborated with the Monroes to record an exclusive video to accompany the virtual exhibition. The exhibit titled Tony Vaccaro at 98 looks back at the photographer's extraordinary career, which began at the age of 21, after being drafted into WWII. Bind Magazine, All About Photo, and the Pasatiempo featured the artist and exhibit.
Read more about the Monroe Gallery of Photography via our blog, and follow them on Facebook and Instagram to fill your feed with fantastic photojournalism.
What Clients Are Saying
"The support is terrific and the owner, Alex, always answers his phone." — Suarez Benz

Personal Attention
You'll work with a dedicated project manager and speak directly with the people who build your project.