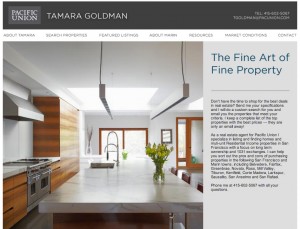 When taking the plunge to find a new property or to sell your beloved home, there are many big choices and commitments that come along with the decision. The biggest may be choosing the realtor that is going to support you through these decisions and represent you during this exciting and significant time.
In Marin County real estate, there are hundreds of realtors available to guide you through this process. It is important however, to choose one who has been in the market for many years, who is experienced in the field and who knows Marin market trends through and through.
Tamara Goldman is all of the above. She has has been a real estate agent in Marin County for over 25 years, specializing in selling residential, investment, and small commercial properties. Her focus, determination, and care of client success and satisfaction has led her to be a top producer in her real estate career and has earned her many awards throughout her time with Pacific Union.
Tamara has been a client of WSD's for many years, and with the looks of the web changing, she decided it was time to revamp her website. WSD rid of the stagnant colors and chose a slicker design. Sharp edges and blocked font give the site a clean, bold feel. Large photos of gorgeous Marin homes and properties populate the pages, bringing Marin County to life on the website. Also listed are Tamara's featured listings, Marin County local information, neighborhood info, and Marin market conditions.
Whether you are looking to buy, sell, invest, or just looking to inquire more information about Marin County real estate, Tamara Goldman is available and aspires to support you through this time.