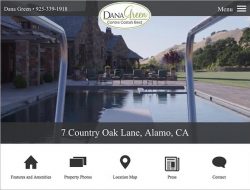 WebSight Design has been building property web sites for residential and commercial realtors since 1995. Our design approach, marketing strategy and technology have evolved over the years along with our realtor client base and the properties they sell. In all that time, the most unique property we have featured  is 
7 Country Oak Lane, Alamo, CA
which is listed for a whopping $39,000,000, reportedly the highest price home ever in the Contra Costa region of the San Francisco Bay Area. The property is exclusively represented by
Dana Green
, a top realtor at Pacific Union.  Dana was named #62 in the Wall Street Journal's 2015 Top 100 agents in the nation. With a total of $750 million in transactions closed (including $174 million in 2015 alone),Dana represents East bay luxury residential buyers and sellers.
David Duffield
, billionaire founder of Peoplesoft and Workday, spent seven years designing and building the estate.  The 20 acre property is an animal lover's paradise, featuring an outdoor dog park, an indoor dog spa, and a soundproof aviary. The property also features 8 beds, 16 baths, two guest houses, a billiard room, a wine cellar, a gym, a movie theater, an oversized swimming pool, two spas, and a water slide! Please visit our site for more information about our
web development services
.