In a high-end, fast-paced market like San Francisco, it takes a real estate mastermind to conquer the ever-changing dynamics. Enter Kevin Wakelin: an agent with an international real estate background, vast experience, and an uncanny ability to assess opportunities from various perspectives. Clients, peers, and investment partners count on Kevin for his extraordinary real estate insight. Likewise, the tenacious leader of Team Wakelin is known to bring out the best in others and is valued for his out-of-the-box strategic thinking, tough negotiating, and swift decisions.
With over 30+ years of investment, development, and sales experience in San Francisco and London, Kevin understands firsthand the importance of a synergistic team, a strong brand, and a solid online presence. So, when it came time to expand his brand to encompass his real estate team, Kevin didn't hesitate to take action; he reached out to WSD to design a new website for Team Wakelin.
A Cool Team-Centric Website
Having built Kevin's previous website, we were excited for the opportunity to join him on his formal transition to Team Wakelin. We started the project by meeting with the team to understand their goals and objectives. Some of their top wish-list items included:
Creatively utilizing their logo and color scheme
Creating a sleek, new property detail page to aid sales efforts
Coordinating each property for sale with its listing agent
Making the website user-friendly and easy to maintain

Our design team worked with the client to integrate the five color bands —Team Wakelin's logo — throughout the website as a series of square, circular and horizontal divider elements. This solution provides fun, alternative ways to use brand colors as iconography and visually functional pieces on the site and in future marketing efforts.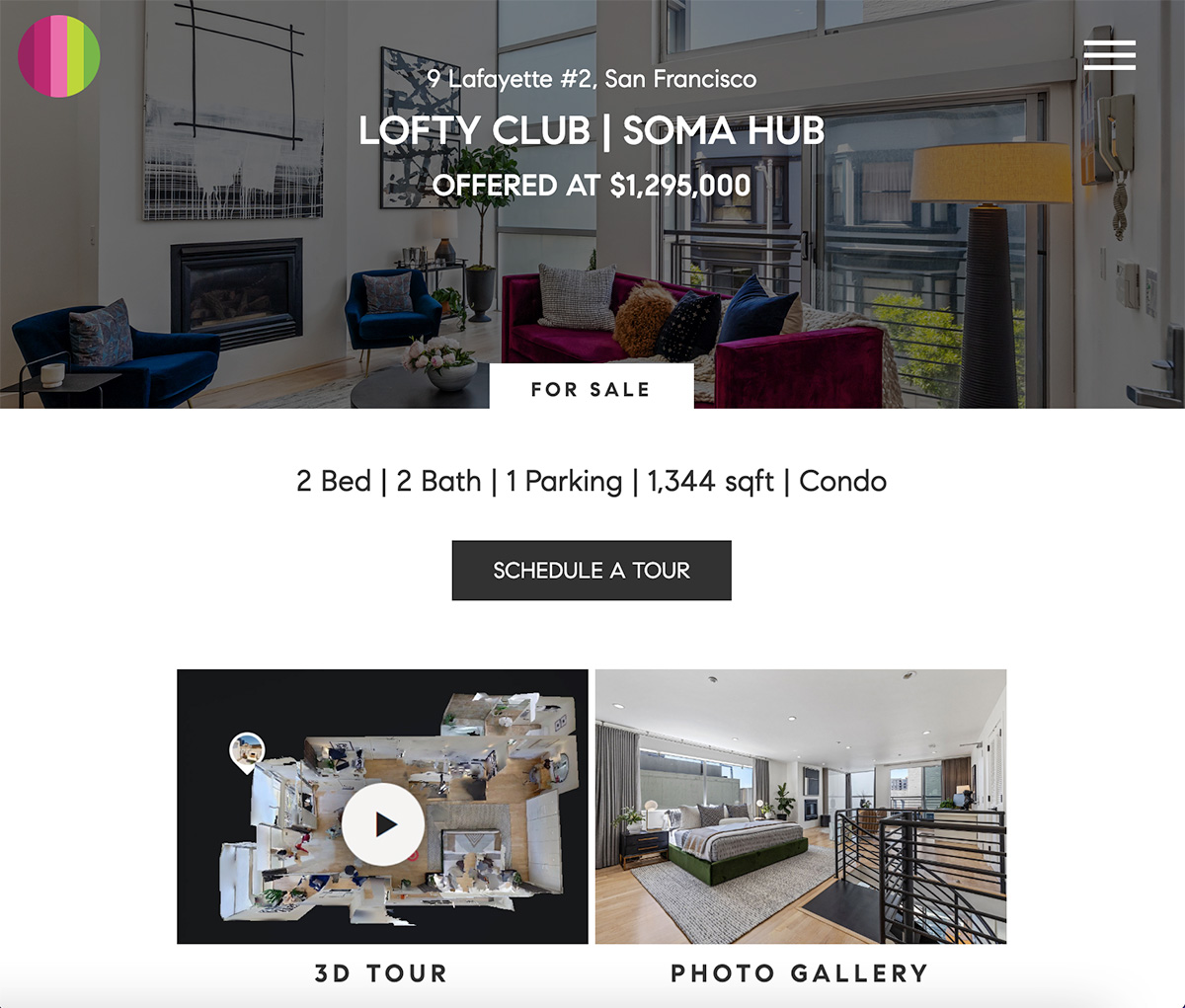 The new property detail page features multiple property images interspersed throughout the page elements so anyone viewing the page can see multiple views of the property without clicking into the formal gallery. When the site visitor does click into the gallery, it opens in a modal so the visitor never leaves the page. This applies to the video, 3D tour, and neighborhood description as well. Each property page can also be used as a standalone microsite with dedicated property-specific URLs, making property sales and marketing a cinch.

Managing the site is easy with our custom CMS, which empowers Team Wakelin to assign an agent to any property, automatically making their information appear at the bottom of the page. Overall, the website elegantly showcases this team's passion and dedication to real estate.
We had a lot of fun working with Team Wakelin. As business partners, we enjoyed being able to turn Kevin and Team Wakelin's needs into a reality. Check out the site today! Click here to visit kevinwakelin.com.
---
About Kevin Wakelin
Raised in Singapore, Malaysia, South Africa, and the UK, he is, in a word, international. He has an uncanny ability to assess opportunities from various perspectives quickly. His business savvy and innate leadership ability match his capacity for lateral out-of-the-box thinking. This rare combination is what sets Kevin apart. Loyal clients and investment partners know they can count on him — not just for sound advice, but for extraordinary insights.
Kevin's career began with a focus on loft dwellings in London. It then expanded to San Francisco, where he oversaw multiple large-scale live/work development projects. Over the years – immersed in entitlements, architecture, design, engineering, construction, marketing, and sales – he mastered the technicalities of real estate and the finances behind it. The result? Kevin's expertise, amassed over decades, is fine-tuned to help his clients build tax-free wealth through their real estate transactions, not just put a roof over their heads.
WSD Services
Content Management SystemHosting Project Management Website DesignWebsite Development