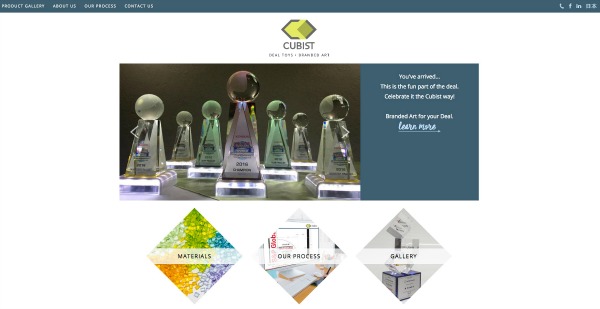 ---
In December, 2016 WebSight Design (WSD)  launched a new site for
CubistSF
. Company founder Charol Morikawa approached WSD to develop the new website. Charol had been in the "deal toy" industry (designing and producing 3D award & recognition objects) for many years and wanted to branch out with a new venture of branded art.
Charol  wanted to start with clean presentation which would allow room to expand and evolve as the business grew. It was vital that WSD provide direct, hands-on engagement to build a strong understanding of her vision and objectives.
The
Product Gallery
provides limitless ability to expand the number of materials, galleries, and projects displayed. In addition, each gallery can be continually curated to optimize Cubist's growing, evolving client and product portfolio.
As for the website's
design
, Charol wanted clean, simple, and a blue color scheme. Cubist SF's diamond shaped logo is emphasized throughout the site and especially on the home page via call to actions for Materials, Process, and the Product Gallery. The "
About Us
" page provides a key backstory, bringing Charol's inspiration for her architecturally inspired products into view.